Farm Heroes Saga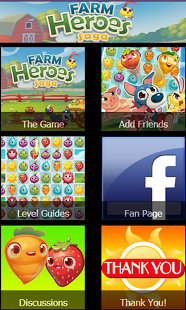 Download Farm Heroes Saga
Free Download - Version 1.5
Farm Heroes Saga is an adventure where you help farm animals drive off Rancid the Raccoon and travel from farm to farm. Farm Heroes Saga has dozens of levels that are free-to-play and is an exciting mix of puzzle and adventure.
Players of Farm Heroes Saga can play the game with a group of friends and compete for spots on leaderboards. Unlock items by completing levels and use boosters and charms to help with completing levels.
Awesome Farm Heroes Saga graphics make the game a blast to play. Collect crops to earn stars and advance to higher levels of the game.